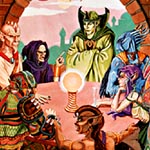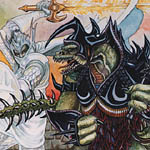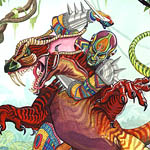 About the Artist by SMS
PD was the first artist to work on Talislanta, and was instrumental in creating the look and feel of the Talislantan milieu. I first saw her (the PD stands for Patricia, or Pat, by the way) atwork in a game magazine called Gateways, and knew right away that her style would be perfect for this strange little game world I'd been working on. We flew her up to Connecticut from Illinois, and the two of us spent the next three days working on design sketches, hashing out details on Talislantan flora and fauna, and getting to know each other.
PD created the cover and interior art for the first three Talislanta books, totalling well over a hundred pieces. She also painted the cover art for practically every book in the Talislanta series (including the Talislanta 4th Edition). PD is known for her use of watercolors, which in her hands appear as rich and colorful as oils. She's a great artist, and also a great friend. Thanks again, PD.
PD is a full-time artist who often appears at Fantasy & Science Fiction conventions around the country, selling prints of her paintings.